RV Travel Survival Tips For Newbies
May 19, 2021
"Bring that good attitude along so that you can have as much fun as possible on your RV travel vacation and try it. Your kids may be scared to jump in but it might just be one of the best trips your family has ever taken, just like it was for ours."
This week on the 3D Parent Podcast, I'm going to share some valuable RV travel survival tips for newbies which I have personally learned and experienced last summer.
Some of the topics covered in this episode include:
Tips on how to improve family dynamics during your RV travel adventures.

Life-saver tools and technologies you can utilize to have a smooth-sailing travel experience.

The ultimate RV Packing list: What to bring and what not to bring.
Our RV camping adventure was one of the best trips that our family ever had and we made a life-time worth of incredible memories along the way. I hope that the topics discussed in this episode can help you plan your very own RV travel adventure. With safe travel options like RV travel, even the pandemic couldn't stop us to create wonderful memories that will surely last a lifetime.
---
Things You Will Learn
[00:49] For today's topic, we're going to talk about RV travel survival tips for newbies. Earlier this summer, my family and I embarked on an RV travel adventure and it was one of the best trips our family ever had.
[01:53] RV travel has become really popular this summer because of the safety it offers considering that we are now in the middle of a pandemic. There are a lot of companies and packages that you can choose from. My first tip for you is to rent an RV longer than you intend to travel. This will give you the flexibility to extend your stay in a location for a couple of days or have the extra days for emergency stops without burning the deposits or putting in late and extra fees.
[06:53] My next tip is to make use of every relevant technology to ease up your travel, from GPS, cell phone hotspots for WiFi, online streaming for entertainment purposes, travel applications, and more. One of our favorite applications that we used on your trip was the Gypsy Guide Tours which offers audible tours that will guide you through various popular destinations. For only $10, we were able to elevate our DIY RV trip into a legitimate travel experience.
[12:30] During the trip, make sure you set up a system wherein everyone has their own duties and responsibilities along the way. Everyone, even the kids, can pitch in as long as it is compatible with their age and skills.
[13:07] In line with responsibilities, provide a souvenir budget for your kids. This could save you from a lot of struggles along the way, from overspending to lots and lots of meltdowns. Aside from that, this can also be a teaching moment wherein children could learn about responsibilities and budgeting.
[17:11] Another aspect you want to consider in your RV Travel planning is the things to bring during your trip. Although you can probably buy things you need along the way, bringing useful and relevant amenities could help you save time and money. Start with the essential stuff such as sanitizers, wipes, air fresheners, organizational tools, and more. These cleaning tools are important to keep you and your family comfortable especially during those exhausting nights from all the activities you took part in. Then move along to activities and entertainment items that could keep your kids busy during your idle time.
[22:26] RV travel requires a lot of flexibility for it to be a successful experience for all parents and kids alike. This is a unique adventure and may come with a few growing pains along the way. So bring a good attitude that can lift the spirits of your whole family.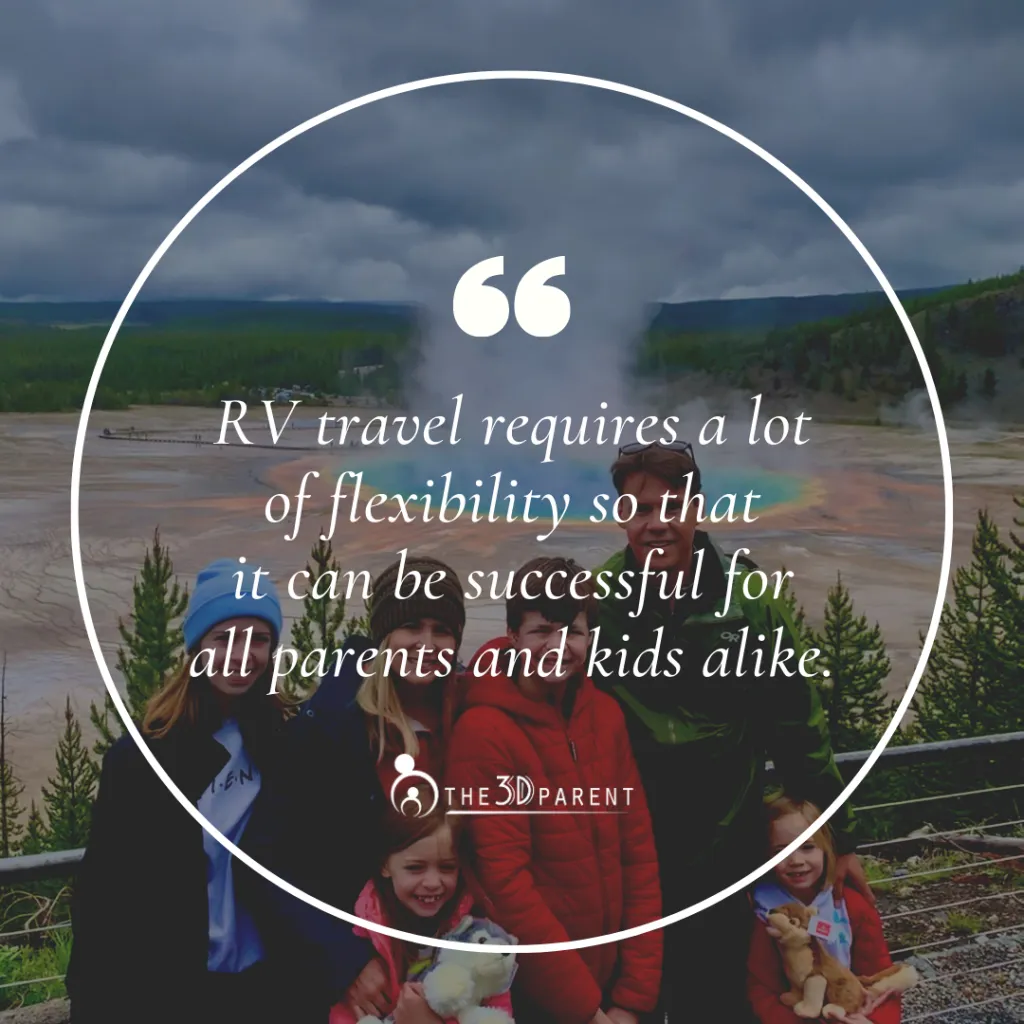 ---
Quotes From Episode 45
"Another RV travel tip: plan for some flexibility to extend or to shorten a trip based on what's going on with you and your family."
"If you have a plan ahead of time, you will most likely avoid navigating those types of difficult choices all the time."
"One tip for planning a meal plan during your RV trip is to think ahead and plan for the type of kitchen and amenities that you're going to have along the way."
"If you're grumpy and snapping at your kids, chances are your kids will have the same type of negative attitude. So bring that good attitude along so that you can have as much fun as possible on your RV travel vacation"
"RV travel, like our travel, requires a lot of flexibility so that it can be successful for all parents and kids alike."
---
Let's work together! I provide 1:1 support for parents motivated to make positive changing in their parenting and gain confidence and increase fulfillment in their role as parents. If this sounds like it might be what you've been looking for, book a free consultation today.
Book a call
Stay connected with news and updates!
Join our mailing list to receive the latest news and updates from The 3D Parent.